Folders|DUPLO FOLDER DF-990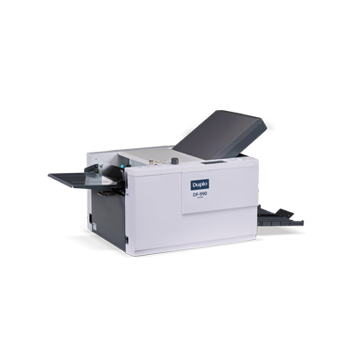 The DF-990 Automatic Paper Folder is the quietest tabletop folding machine in the industry. With a high speed of up to 260 sheets per minute. It is perfect for any office environment.
| Paper Size | Process Speed |
| --- | --- |
| A3~B6 | 260sheets per minute |
LCD Color Touch Panel
Model/Type
Desktop-type DF-990
Regular Paper Size
A3 to B6
Range of Paper Size
Max.311×457.2mm
Min.:74×105mm
*With some exceptions
Paper Type
Fine quality paper / Coated paper
Paper weight
52.3 to 157g/m²
Paper Feed Capacity
500 sheets
*64g/m², Fine quality
Folding Mode
Single fold, Double fold, Irregular accordion fold, Letter fold,Accordion fold, Gate fold, Specific cross fold, Other non-standard fold.
Maximum Process Speed
260 sheets per minute
*81.4g/m², Fine quality, A4 single fold
Number of custom folding registration memories
15
Paper Feed method
3-ring friction feed
Paper feed tray movement
Automatic up-down
Additional functions
Separating pressure adjustment, Paper feed pressure adjustment, Folding speed adjustment, Manual adjustment, Test folding, Entire paper length input mode, Folding stopper fixing function, Refold mode function, Processing speed change function, Paper ejection interval (batch) function, Interval settings at the start-up time, Processing speed settings at the start-up time, Paper ejection function, Paper ejectin function inside the folding plate, Buzzer sound settings, Paper stacking detection switching function, LCD display energy-saving setting mode
Error detection functions
Paper stack detection, Paper jamming detection, Miss-feed detection, Paper size error, Double-feed detection, Paper size detection
Dimensions
In use
 1,046(W)×512(D)×494(H) mm
In storage
 665(W)×512(D)×494(H) mm
Weight
42.0 kg (including accessories)
Options
DF Hand Feed KIT
Duplo has a policy of continuous improvement and reserves the right to amend the specifications without prior notice.
Other related equipment
Perfect Binder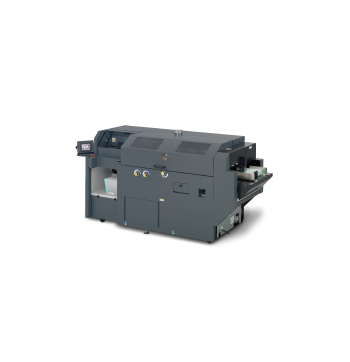 | Process Speed | The Number of Clamp |
| --- | --- |
| 525 cycle/hour | 1 |