Slitter/Cutter/Creaser|DC-648 Slitter/Cutter/Creaser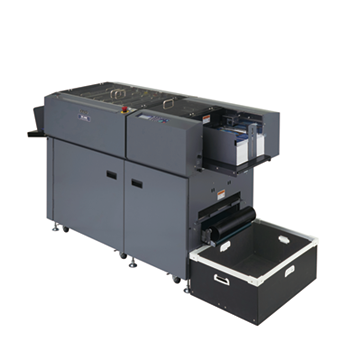 DC-648 Slitter/Cutter/Creaser is a powerful, automated finishing solution for busy digital printers. The model is capable of 6 slits, 30 cuts, 20 creases in one pass, and more processes e.g. perf/slit-score are possible by adding optional modules, which covers a variety of popular applications such as business cards, greeting cards, brochures, tickets, coupons and book covers. The camera sensor compensates the image shift/skew of digital prints. With its ability to handle wider range of media including 400gsm and 1000mm length and the quick job changeover, DC-648 is an ideal solution for high volume digital print environment.
Process Speed
40sheets per minute
Model/Type
DC-648
Machine Type
Slitter/Cutter/Creaser
Document Size
Width
 210.0mm - 370.0mm
Length
 210.0mm - 1000.0mm
Minimum finishing size
Slit width
 48.0mm
Cut length
 50.0mm
Document type
Uncoated, Coated, Laminated, UV coated
Margin slit width
0.0 mm / 3.2 − 55.0mm
Gutter slits width
5.0 - 15.0mm
※Gutter slits wider than 15.0mm are output on the exit tray.
Minimum cutting length
Lead edge cut
 3.0mm
Gutter cut
 3.0mm
Trail edge cut
 5.0mm
Document weight
110 −400 gsm
※Laminated / UV coated stock: within the above range including lamination / coating layer.
Slit - Cut - Crease
Up to 6 slits*, 30 cuts, 20 creases / document
※Max 8 slits (3 standard and 1 optional modules)
Speed
40 ppm (Camera off)
38 ppm (Camera on)
※2cut / 1crease on A4SEF
Feeder capacity
120mm
※With the documents longer than 670.0 mm: 30 mm
Exit Tray Height
150mm
PC Interface
PC Controller USB 2.0 connection (B type connector)
Option
Rotary Tool Module (RTM-09)
Cross Tool Module (CPM-09)
Side Air (AIR-05)
PC Arm Mount
Elevator Card Stacker
Power supply
230 VAC, 50/60 Hz
Power Consumption
2.7 A
Dimension
In use
 2430 (W) × 805 (D) × 1120 (H) mm
In use with long sheet
 2830 (W) × 805 (D) × 1120 (H) mm
In use (Max)
 2830 (W) × 1560 (D) × 1535 (H) mm
In storage
 1720 (W) × 805 (D) × 1120 (H) mm
Weight
341 kg
Duplo has a policy of continuous improvement and reserves the right to amend the specifications without prior notice.
Other related equipment
Perfect Binder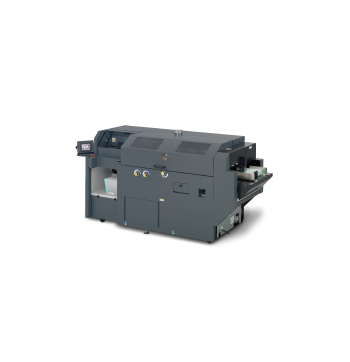 | Process Speed | The Number of Clamp |
| --- | --- |
| 525 cycle/hour | 1 |