Folders|AIR SUCTION FOLDER DF-1300L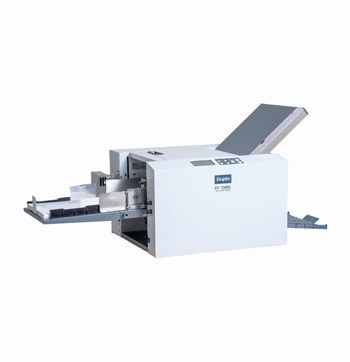 The Duplo DF-1300L Air Suction Paper Folder provides the perfect tabletop solution for folding offset and digitally printed documents.With a production speed of up to 310 sheets per minute, the DF-1300L utilizes Duplo's renowned suction feed technology to handle static build-up in digital print applications and also comes equipped with Optical Double Feed Detection to ensure personalized jobs are folded one sheet at a time. Fully automated and quiet in operation, the DF-1300L is ideal for any office environment.
| Paper Size | Process Speed |
| --- | --- |
| 311 x 648mm | 310sheets per minute |
Model/Type
Desktop-type DF-1300L
Feeding Method
Fan motor belt suction method
Regular Paper Size
A3 to B6
Range of Paper Size
Max.311(W) x 648.0(L)mm
Min.120(W) x 182(L)mm
Paper Type
Fine quality
Paper length 457.2 mm or less : 52.3 to 157.0 gsm
Paper length more than 457.2 mm : 81.4 to 157.0 gsm
Art/Coated
Paper length 457.2 mm or less : 73.3 to 157.0 gsm
Paper length more than 457.2 mm : 104.7 to 157.0 gsm

Process Speed
310 sheets per minute (A4/lengthways single fold)
Feeding Capacity
50mm
Folding mode
Single fold, Double fold, Irregular Accordion fold, Letter fold, Accordion fold, Gate fold, Specific cross fold, Other non-standard fold
Dimensions
In use
 1,353(W)×587(D)×614(H) mm
In storage
 900(W)×587(D)×614(H) mm
Weight
71kg
Standard Functions
Color LCD touch panel, Side Air fan, Double feed detection, Misfeed detection, Paper jam detection, Batch (interval) function
Duplo has a policy of continuous improvement and reserves the right to amend the specifications without prior notice.
Other related equipment
Perfect Binder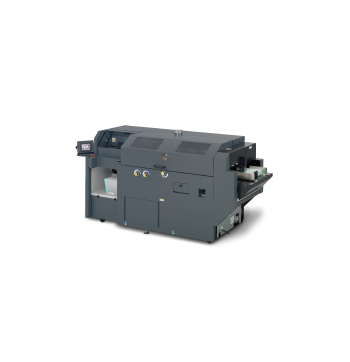 | Process Speed | The Number of Clamp |
| --- | --- |
| 525 cycle/hour | 1 |