DC-746 Slitter/Cutter/Creaser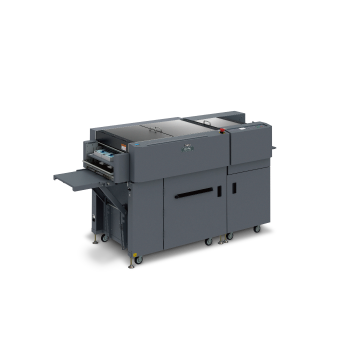 DC-746 Slitter/Cutter/Creaser is a high speed automated finishing solution. The speed is 50 sheets/minute the fastest that even a large volume jobs can be finish easily and show excellent work efficiency. This model is capable of doing 6 slits, 30 cuts, 20 creases in one pass and more processes. Example:Perforation, Slit-score are possible by adding optional modules. It can create variety of products such as business cards, greeting cards, brochures, tickets, coupons, book covers and more.
Process Speed
50sheets per minute
Model/Type
Slitter/Cutter/Creaser DC-746
Document Size
Width: 210-370mm
Length: 210-999.9mm
*Max: 710mm with the feed tray and the exit tray
Document type/weight
110-350g/m² (coated paper, high-quality paper, laminated paper, UV-coated paper)
* Within the above paper weight range including laminate and coat layer
*When using slitter module in slot 2 and/or slot 3: 127 gsm or more
Feeder tray capacity
150mm
*There is the load limitation for a document of over 670mm
Exit tray capacity
150mm
*Card stacker stacking height 90mm
Speed
Approx. 50 ppm (sheets/minutes), (A4 SEF, 2 cuts and 1 crease)
*With registration mark on: approx. 40ppm. 3 steps adjustment
Processing accuracy
±0.2mm
Minimum finishing size
Width 48mm Length 50mm
Maximum of Slit - Cut - Crease
Up to 6 slits, up to 30 cuts, up to 20 creases (On 1 document)
Margin slit width
3.2 to 55 mm from the side edge
Margin gutter slit width
5-15mm
Number of registered job programs
250 jobs (Also PC via the PC controller)
Standard functions
Test feed, Air knife, Side blow, Feed skew adjustment, Ultrasonic double feed detection, Reject(Documents available:670 mm or shorter), Automatic job setup by reading barcode, Image drift compensation by reading Registration mark, End mark detection, Apply shrinkage, Job lock, Batch separation(Not available when IFS connected), Emergency stop, Inter lock all covers, Paper ejection conveyor, Slitter guide, Speed adjustments(3 levels), Gutter unit(2 units), Cleaning mode, Interval mode, Longitudinal magnification correction function, Vertical and horizontal position correction function, PDF template creator.
Compatible OS for PC controller
PC controller software (USB B type connector, PDF template creator)
・Windows 8.1 (32bit/64bit)
・Windows 10 (32bit/64bit)
・Windows 11
Power supply
AC115V, 60Hz
AC230V, 50/60Hz
Power consumption
     Consumption
     Current  Power
115V   5.2A    550W
230V   2.7A    550W

     Standby
     Current   Power
115V   1.0A    100W
230V   0.7A    110W
Machine Size
In use (standard)
 2,645 (W) x 870 (D) x 1,115 (H) mm
In use (max document)
 3,040 (W) x 1,020 (D) x 1,115 (H) mm
When stored
 1,890 (W) x 870 (D) x 1,115 (H) mm
Weight
450kg
Optional equipment
Rotary tool module, Cross tool module, Optional slitter module, Center slitter module, .
Duplo has a policy of continuous improvement and reserves the right to amend the specifications without prior notice.
Other related equipment
Slitter-Cutter-Creaser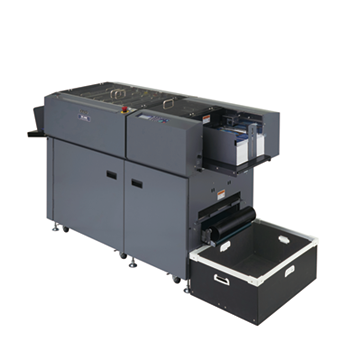 | Process Speed | Optional equipment |
| --- | --- |
| 40sheets per minute | CCD |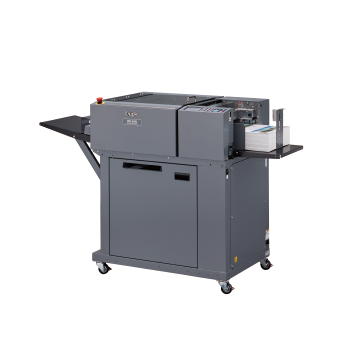 | Process Speed | Optional equipment |
| --- | --- |
| 23sheets per minute | CCD |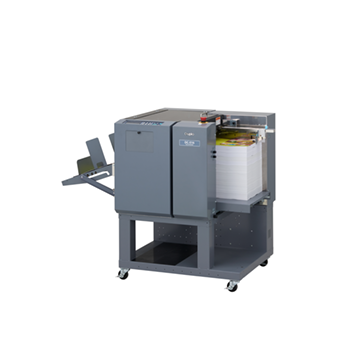 Process Speed
100 sheets/min (A4 SEF 1 center creaser)
Perfect Binder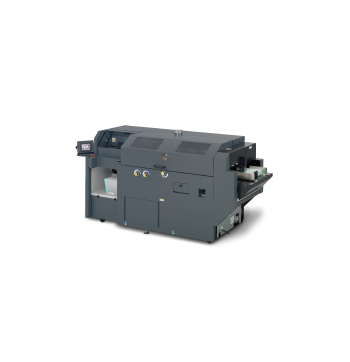 | Process Speed | The Number of Clamp |
| --- | --- |
| 525 cycle/hour | 1 |