Folders|DUPLO FOLDER DF-970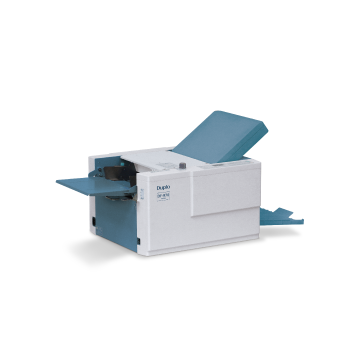 The DF-970 Automatic Paper Folder is the quietest tabletop folding machine in the industry. With a high speed of up to 242 sheets per minute. The DF-970 eliminates folding by hand and is perfect for any office environment.
| Paper Size | Process Speed |
| --- | --- |
| A3~A7 | 242sheets per minute |
Model/Type
Desktop-type DF-970
Regular Paper Size
A3 to A7
Range of Paper Size
Max.311×457.2mm
Min.:74×105mm
*With some exceptions
Paper Type
Fine quality, Specific Art/Coated
Paper weight
52.3 to 157g/m²
Paper Feed Capacity
500 sheets
*64g/m², Fine quality
Folding Mode
Single fold, Double fold, Irregular accordion fold, Letter fold,Accordion fold, Gate fold, Specific cross fold, Other non-standard fold.
Maximum Process Speed
242 sheets per minute
*64g/m², Fine quality, A4 single fold
Number of custom folding registration memories
10 types
Paper Feed method
3-ring friction feed
Paper feed tray movement
Manual up-down
Additional functions
Folding stopper fixed, Test folding, Standard folding registration, Custom folding registration, Entire paper length input mode, Thick paper mode, Thin paper mode, LCD display energy-saving, Force eject function, Force eject inside folding plate, Cross fold (Optional), Manual feed function (Optional)
Error detection functions
No paper detection, Paper jamming detection, Miss-feed detection, Paper size error
Dimensions
In use
 1,046(W)×512(D)×494(H) mm
In storage
 665(W)×512(D)×494(H) mm
Weight
41kg
Duplo has a policy of continuous improvement and reserves the right to amend the specifications without prior notice.
Other related equipment
Perfect Binder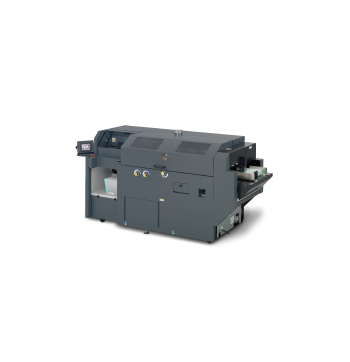 | Process Speed | The Number of Clamp |
| --- | --- |
| 525 cycle/hour | 1 |