Sheet Cutters | V-590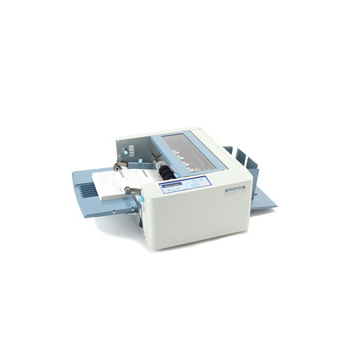 The V-590 is a sharp guillotine-action knife. This sheet cutter can cut thick paper such as postcards.
| Cutter | Process speed |
| --- | --- |
| Guillotine cutter | 2,640sheets/h |
Model/Type
Sheet Cutters V-590
Machine type
Desktop, Tandem
Paper Size
Width
 106 to 364 mm
Length
 110 to 420 mm
Cut Capacity
1part, 50 to 135 kg
Cut Width
Maximum
 210 mm
Minimum
 55 mm
Cutter
Guillotine cutter
Paper Feed
Rubber ring
Feed Capacity
45mm, 500 sheets (64g/m2, Fine quality)
Cut Tolerance
0.5 mm (except last piece)
Cut Size
A3
 1/2, 1/3, 1/4, 1/5, 1/6, 1/7
A4
 1/2, 1/3, 1/4, 1/5
A4R
 1/2, 1/3
A5
 1/2, 1/3
A5R
 1/2
Custom size
Process Speed
A4 Longitudinally, 1/3
 2,640 sheets per hour
Other Functions
Display(144X32dots LCD with back light), Interlocked safety cover, Counter, Double feed detection, Automatic power off, Feed pressure adjustment, Cut position adjustment, Slitter checking mode, Process speed(3 steps), Proof feed, Automatic cut up function
Power Supply
AC100 - 240V, 50/60Hz, 0.5 - 0.3A
Dimensions
In use
 795(W)×575(D)×250(H)mm
When stored
 600(W)×575(D)×250(H)mm
Weight
32kg
Option
Center slitter unit, Gutter guide, Perforator (Standard/Micro) unit, Attachment kit, Straight conveyor, Cabinet
Duplo has a policy of continuous improvement and reserves the right to amend the specifications without prior notice.
Other related equipment
Sheet Cutters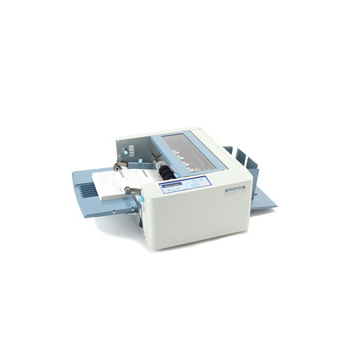 | Cutter | Process speed |
| --- | --- |
| Guillotine cutter | 2,640sheets/h |