Form Bursters | FB-703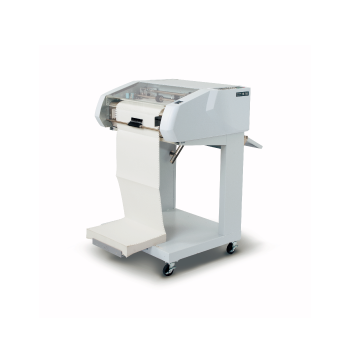 Burster separates and stacks continuous forms at speeds of up to 90m/minute, which accelerates the handling of computer forms and enhances their final appearance. An LCD screen displays messages and status, and a guide light improves visibility for margin slitter positioning. FB-703 is equipped with a simply designed dropping stacker.
| Stacker | Process speed |
| --- | --- |
| Dropping type | 90m/min |
Model/Type
Form Bursters FB-703
Machine type
Floor stand model
Cutting method
Bursting method (Roller lifting method)
Size of form
Length
 3–14 inches
Width
 4–18 inches (Max. finished size: 17 inches)
Maximum copy
Non-carbon forms: max 8 parts (40–50 gsm)
1-part forms: 47–157 gsm
Processing speed
8–90 m/min
* Maximum processing speed might vary depending on the paper.
Paper feed
Rubber roller (manual)
(Pin tractors are optional.)
Stacker
Dropping type : (max 50 mm)
Margin slit
Margin slit width: 0–1.125 inches
Preset
120 jobs
Function
Counter (0–60000), Preset counter (1–999) Automatic stop at the end form Final page ejection, Margin slitting function Safety cover with interlock Automatic jam stop, Auto power off mechanism Paper weight detection, Bursting pressure auto adjustment DSC(Dynamic Stability Control) Margin slit line LED, Direct job retrieving
Options
CHP-10
 Chopper (Left)
CHP-11
 Chopper (Right)
CNT-22
 Center slitter (FB-703/FB-704)
 Cannot be used with SEP-09/10 and PFU-04.
PIN-05
 Pin tractor (FB-703/FB-704)
SEP-09
 Separator (FB-703/FB-704)
 Cannot use with CNT-22
PRD-02
 Printer inline unit
MTU-02
 Middle tray unit (up to 5 kg)
Power supply
100–240 VAC±10%, 50/60Hz
Power Consumption
In operation
 180–300 W (2.9–1.4 A)
Standby
 22W
Dimensions
Stored
 700(W)×900(D)×1,010(H)mm
In use
 700(W)×1,090(D)×1,010(H)mm
Weight
Net weight
 86kg
Gross weight
 104kg
Duplo has a policy of continuous improvement and reserves the right to amend the specifications without prior notice.
Other related equipment
Sheet Cutters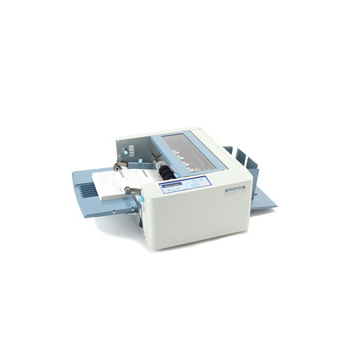 | Cutter | Process speed |
| --- | --- |
| Guillotine cutter | 2,640sheets/h |