Digital Spot UV Coater | DDC-810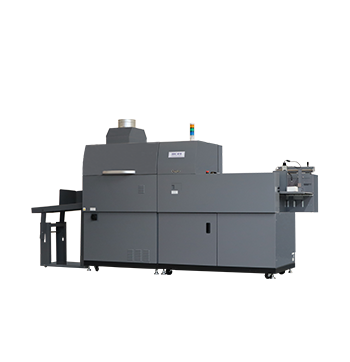 Digital Spot UV coater DDC-810 is Duplo' s newly innovated product by using accumulated paper handling technology including inkjet press. To meet demand of spot UV coating from the market, DDC-810 provides compact and user friendly. It is compact size but achieves precise valued UV coating by incredible CCD reading system and inkjet control.
| Resolution | Process speed |
| --- | --- |
| 600 x 600 dpi | 21 to 36 ppm |
DDC-810 with BARCODE KIT (optional parts)
Model/Type
Digital Spot UV Coater DDC-810
Paper size
Width
 279 to 364 mm
Length
 210 to 740 mm
Standard size
 B3, A3SR, A3, B4, A4 (LEF), letter size(LEF)
Paper quality
Art/coated paper: 157 to 450 g/m²
Paper type
Sheet
Printing method
Line-type inkjet method
Resolution
600 x 600 dpi
Printing area
10 mm from each edge(Maximum printing width: 331 mm)
Print data
PDF and TIFF
Print correction method
Automatic correction by camera system
Print accuracy
± 0.2 mm or less
Print thickness
20 to 80 µm (7 levels)
Processing speed
A3
 21 ppm
A4 LEF
 36 ppm
Paper feeding method
Belt suction method
Paper feed tray capacity
150 mm
Rating
Single phase model
 208 to 240 V AC, 50/60 Hz, 36 A
Three phase model
 Y200 to 240V AC 380 to 415V 50/60Hz, 12A/phase(PEAK 16A).

Power consumption
Single phase model 6,000W.
Three phase model 6,000W.
Dimensions
In use
 3,518 (W) × 1,454 (D) × 1,840 (H) mm
In storage
 3,277 (D) × 810 (D) × 1,690 (H)mm

Weight
511 kg
Duplo has a policy of continuous improvement and reserves the right to amend the specifications without prior notice.
Other Digital Spot UV Coater
Digital Spot UV Coater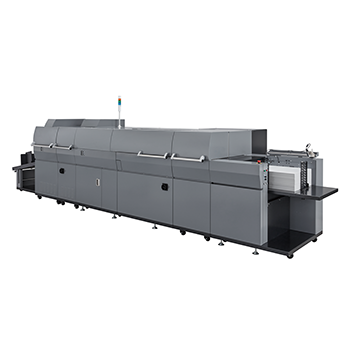 Resolution
Process speed
600dpi×600dpi
<When printing>
[Equivalent to A3SR] 25 sheets / minute
[Equivalent to B2] 12 sheets / minute

<When foil processing>
[Equivalent to A3SR] 12 sheets / minute
[Equivalent to B2]