Suction Collator | DSC-10/60iL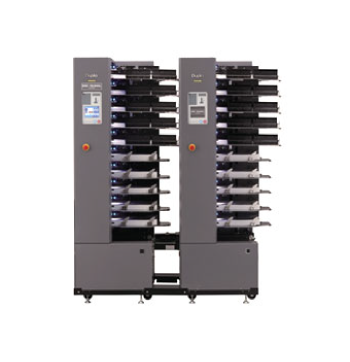 Duplo's long history Air Suction Collator further advanced with LED light communicating system to inform operator of the machine status quickly and visually. Blue LED light indicates when error happening. White LED lights up for visibility of loaded paper. Green/Red LED indicate to check running condition even from long distance. DSC-10/60iL is an ideal machine for every operator with its 10,000 sets/hour high speed processing and user friendliness.
| The number of bins | Units connectable | Process Speed |
| --- | --- | --- |
| 10 bins/tower | 6 towers | 10,000sets/h |
Model/Type
Suction Collator DSC-10/60iL
Machine type
Floor type vertical collator
The number of bins
10 bins/tower
Maximum number of towers connectable
6 towers
Feeding system
Belt air suction feed system
Conveyance system
Roller belt conveyance
Maximum paper loading volume
65mm
Paper size
Width
 105 to 350 mm
Length
 148 to 610 mm
*When the length is 508 or more, width is 200 to 230mm
Paper weight
【Inner sheet】
Fine quality paper
 52 to 157gsm
Art/Coated paper
 79 to 157gsm
【Cover sheet】
Fine quality paper
 52 to 300gsm
Art/Coated paper
 79 to 300gsm
Paper type
Sheet
Single-folded (Below 80 gsm / within 10 bins)
Cross-folded (Below 80 gsm / within 5 bins)
Maximum Process Speed
10,000sets/h (A5 long edge feeding)
Error detection
Double-feed, Mis-feed, Paper jam, No paper, Conveyance path paper jam, Conveyance path door open/close
Rating and power consumption
220-240V, 50/60Hz, 5.3A, 980W
Dimensions
Single tower(When using extension paper tray)
 855(W)×830(D)×1,972(H)mm
1 tower+LUL-HM
 1,485(W)×830(D)×1,972(H)mm
Weight
307kg
Duplo has a policy of continuous improvement and reserves the right to amend the specifications without prior notice.
Other related equipment
COLLATORS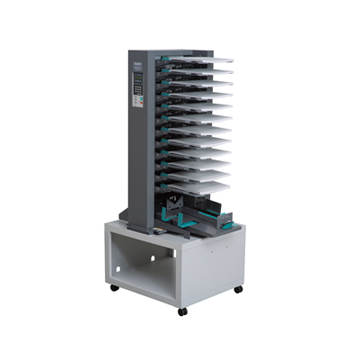 | The number of bins | Process Speed |
| --- | --- |
| 12 bins/tower | 6,000sets/h |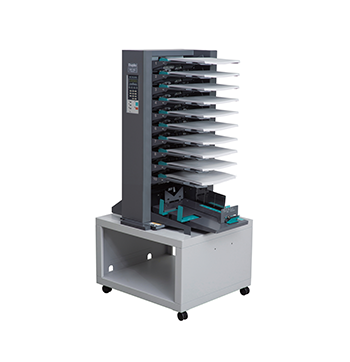 | The number of bins | Process Speed |
| --- | --- |
| 10 bins/tower | 7,800sets/h |
SHEET FEEDERS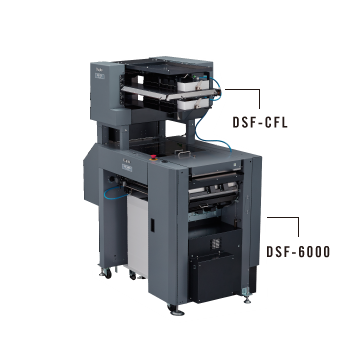 | Paper size | Paper loading volume | Process Speed |
| --- | --- | --- |
| B6~A3SR | 610mm | 600sheets/min |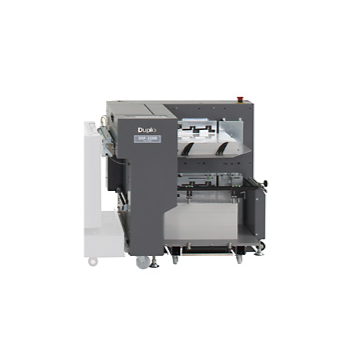 Paper size
Paper loading volume
Process Speed
A5~A3SR
Upper tray:65mm
Lower tray:200mm
200sheets/min
SQUARE SPINE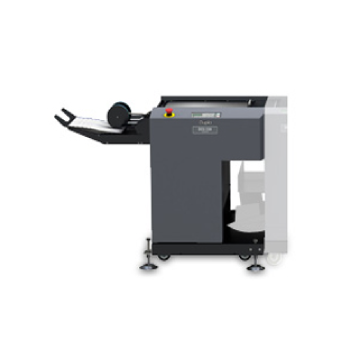 | Book size | Process Speed |
| --- | --- |
| A5~A3SR | 2,600books/h |
STAPLE PUNCH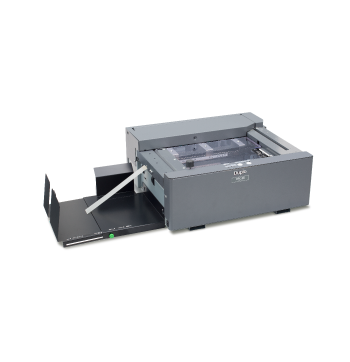 | Paper Size | Punch capacity |
| --- | --- |
| A5~B4 | 24sheets |