Digital Duplicators|Duprinter|DP-G325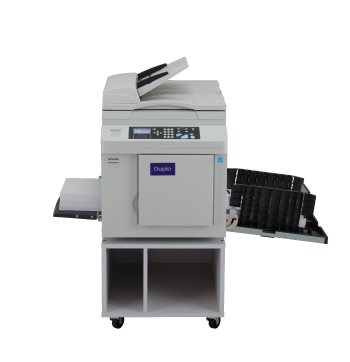 The most balanced Duprinter DP-G325 is highly reliable feeding and printing for volume printing with affordable print cost. The ideal machine is equipped with standard USB interface for direct print from computer. Print quality of resolution 300 x 600 dpi and 130 ppm printing speed meet your safisfaction. DP-G325 is ideal for up to "B4" size image area.
| Paper size | Print head | Print speed |
| --- | --- | --- |
| A3 | 300×600dpi | 130sheets per minute |
Model
DUPRINTER DP-G325
Type
Table top
Master Making
Thermal Digital
Master Making Speed
21 seconds (A4.100%)
Resolution
Scan
 300dpi×600dpi
Print
 300dpi×600dpi
Scanning Method
Flatbed scanner
Flatbed scanner
Stencil Print
Document Type
Sheets, Book (max. 10kg)
Document Size
MAX
 297×432mm
MIN
 100×148mm (with optional ADF)
Paper size
MAX
 297×420mm
MIN
 100×148mm
Image area
250×355mm
Capacity
Feeder
 1,300 sheets (64gsm)
Stacker (installed on cabinet)
 1,300 sheets (64gsm)
Stacker(used as table top)
 900 sheets (64gsm)
Paper weight
45 - 210gsm
Zoom
Zoom
 50~200%
Preset reduction/enlargement
 57, 70, 81, 86, 94, 115, 122, 141, 173%
Margin
 x94%
Image modes
Text, Photo, Text/Photo, Pencil
Print speed
60 - 130 ppm 3step
Registration adjustment
Vertical
 ±15mm
Horizontal
 ±15mm
Ink supply method
Fully automatic
Master feeding method
Fully automatic
Master ejection method
Fully automatic
Color Print
By replacing Drum unit
Online
USB interface (USB2.0 Full-Speed), Windows 7(32bit/64bit), Windows 8.1, Windows 10, Mac OSX Lion 10.7
Other function
Ink save mode, Multiple exposure (2, 4, 8, & 16-up, 2in1), Confidential safeguard, 90, 180 degree rotation, Master re-make (save the data from last master making), Repeat counter, Pre-print, Interval print (2 mode, by time specified), Print per set/prints per document program, Energy save mode(LCD / back light turned off /sleep LED), Ink replenishing mode, Auto-reset, Online print (USB 2.0), Double feed detection
Power source
100-240V, 50/60Hz, 1.6-0.8A
Max speed printing
 MAX. 135W
Energy save mode
 MIN. 10.2W
Dimensions
In use(with cabinet)
 1,290(W)×620(D)×1,110(H)mm
Folded(with cabinet)
 700(W)×620(D)×1,110(H)mm
Weight
79kg
Duplo has a policy of continuous improvement and reserves the right to amend the specifications without prior notice.
Other related equipment